Patten says Moderator 'living in the 16th century'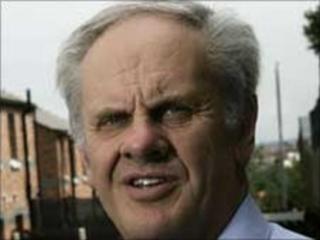 The decision by the leader of the largest Protestant church in NI not to shake the Pope's hand has been described as "unfortunate" by the person overseeing the papal visit to the UK.
The Presbyterian Moderator, Dr Norman Hamilton, has turned down an opportunity to meet the Pope after a service at Westminster on Friday, but insists his decision is not a snub to Catholics or Pope Benedict XVI.
Lord Patten said Dr Hamilton had to "explain himself".
"I am strongly of the view that the Christian churches should work together and should shake one another's hand rather than behave as though we were living in the depths of the 16th century," he said.
"But perhaps some people are more comfortable in the 16th century than they are living in the 21st."
Dr Hamilton said on Monday he turned down the opportunity to be presented to the Pope after the service because of "troubling issues" which needed to be addressed.
He said he had changed his plans in order to accept an invitation to attend Friday's ceremony because he wanted to show "proper respect to the Roman Catholic people of Ireland and their leader".
However, the moderator said he had declined the opportunity to be presented to the Pope or to shake his hand after the service because there were a number of issues which needed "substantive discussion back in Ireland".
"There appear to be troubling differences between us on how we deal with the past," he said.
"Colleagues of mine are picking up pastoral issues within the Catholic Church, where Catholic families are coming to them asking for pastoral help, sometimes in the most difficult of circumstances, because they do not want Catholic clergy to deal with them in light of the abuse scandals."
He added he hoped people would understand that he was in "difficult circumstances, where there were all sorts of conflicting pressures".
Earlier this year, the former Governor of Hong Kong and EU Commissioner, Lord Patten, was appointed to oversee the Pope's visit to the UK in September.
Prime Minister David Cameron appointed the Conservative peer, as his "personal representative" for the trip.