Trust explains abuse brothers' return to Donagh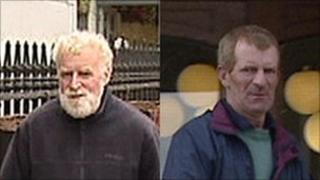 The Western Trust has met residents from Donagh, County Fermanagh, to explain how two child-abusing brothers were allowed to return to the village.
James and Owen-Roe McDermott abused children in Donagh over a 30-year period, but a judge ruled they were mentally unfit to stand trial.
There was outrage in their home village when they returned.
The pair have since admitted themselves to a hospital for treatment.
Representatives of the trust met victims, survivors, police and members of the department of justice in Donagh on Tuesday night. It was a private meeting, closed to the media.
The MP for the area, Michelle Gildernew, Sinn Fein, was present.
"It was a very helpful meeting," she said.
"It was helpful for me and helpful for the community. There is more work to be done, but we have a good basis for moving forward.
"There have been lessons learned all around. We have look forward. That is what is happening and I'm very pleased about that."
Between them, four McDermott brothers, from Moorlough Road in Donagh, faced 60 charges of abuse.
John McDermott was jailed for nine years in June for his role in the abuse, which was described as frequent, regular and persistent.
Peter Paul McDermott took his own life during his trial on abuse charges involving two young boys.
Micheal Mohan, who leads the Donagh Community Forum said the meeting was about "finding solutions" and not about placing the "particular blame on anybody".
The Western Trust said it plans further meetings between it and members of the Donagh Community Forum following Tuesday's meeting.
In a statement, a spokesperson from the trust described the meeting as "long, but positive and constructive which helped clarify the roles and responsiblities of the statutory agencies".