Irish science minister won't launch anti-evolution book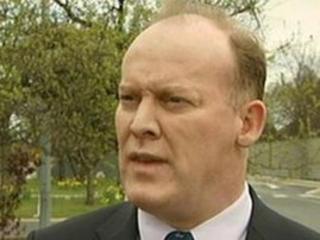 An invitaion to the Republic's science minister to a launch a book which claims to expose the "fiction of evolution" has been withdrawn.
Conor Lenihan had agreed to launch the book as a favour to a friend and constituent.
The minister's decision to launch the book, The Origin of Specious Nonsense, by John May, caused consternation in the Republic's scientific and academic community.
Mr Lenihan said he accepted the invite, not as science minister, but as a member of the Dail, supporting a constituent and long-time friend.
Such was the furore that Mr May asked Mr Lenihan not to launch the book on Thursday because he was embarrassed that the minister had been insulted and "eviscerated" over his decision to accept his invitation.
In pre-publicity material for the book, the author accuses Richard Dawkins, Christopher Hitchens and other campaigners for atheism of having "sacrificed reason on the altar of chance, mutations and randomness".
Reaction
He describes evolution as "facile", and an "unscientific hoax".
In an RTE radio interview, Mr May wondered what would have been the reaction if Mr Lenihan had agreed to launch Richard Dawkin's book, The Greatest Show on Earth.
Mr Lenihan confirmed on Tuesday that he will not attend the launch, but added that he thought that diversity of opinion was a good thing.
Academics and scientists have said the incident calls into question the science minister's judgement.