Sinn Fein man 'gave out fake ballots' at poll station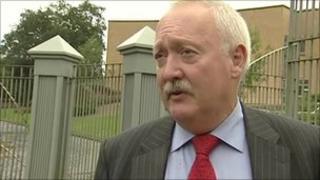 An election court has heard claims that a Sinn Fein worker handed out photocopied ballot papers in a car park outside a polling booth in Enniskillen.
Unionist Unity candidate for Fermanagh and South Tyrone Rodney Connor lost to Michelle Gildernew by four votes in the May general election.
He claims that there were 36 more votes counted than ballot papers issued.
The electoral office has argued that Mr Connor did not take the opportunity to inspect the votes.
Shirley Bradshaw, a presiding officer at Holy Trinity Primary School polling station in Enniskillen, was the first person to give evidence at the Dungannon court.
Eight more votes than she said she issued were found in her ballot box.
She said that after seeing the man from Sinn Fein giving out the copies in the car park, she subsequently took copies from some voters and threw them in the bin.
However, it was put to her that the discrepancy in the numbers could have been down to human error in counting.
Ms Bradshaw has been told that she will not be allowed to be involved in an election count again due to the "poor quality" of her work.
Disputed
Mr Connor's legal representatives also alleged that 36 more ballots were counted than had been issued at the polling stations.
They said 11 ballots which had been rejected by the Deputy Returning Officer were then admitted by the Chief Electoral Officer at the final recount.
The court heard that none of the disputed papers have been identified amongst the 47,000 ballots, even though they could have affected the result of the election.
Michelle Gildernew's four-vote victory was declared after three recounts.
She has insisted that she was properly returned by the people of Fermanagh and South Tyrone as their MP, retaining the seat she has held since 2001.
Mr Connor, who is a former chief executive of Fermanagh District Council, was ahead by eight votes after the first count.
The case is expected to last three days and the court has the authority to order a recount, overturn the result or open the way for a by-election.