Humphrey chosen as Dodds North Belfast successor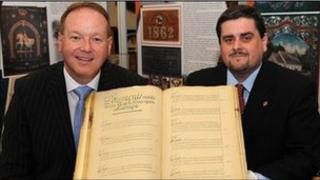 The DUP has chosen Belfast councillor William Humphrey as its replacement for North Belfast MP Nigel Dodds in the Northern Ireland Assembly.
Mr Humphrey, who represents the Duncairn ward on Belfast City Council, is currently Deputy Lord Mayor.
Mr Dodds stepped down as an MLA as part of the party's policy of phasing out dual mandates.
Mr Humphrey, who stood in the 2007 Assembly election but was not elected, said he was proud to have been chosen.
He added: "Nigel has a proven track record of dedicated hard work on the ground, making a difference in peoples' lives within the Constituency.
"That will be the record I will strive to emulate."