Online gambling addict stole £330k from employer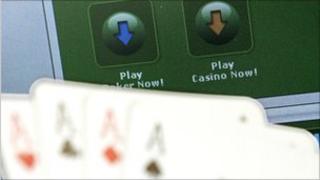 A judge has criticised online gambling companies after jailing a Tyrone man for stealing almost £330,000 from his employer to feed his addiction.
Eamonn McGirr, 27, from Richmond Drive in Clogher stole the money from his employer, Tyrone Tiling Services, of Omagh, over a two-year period.
He wrote over 170 company cheques for false invoices then deposited the money in his own bank account.
He was jailed for a year and eight months.
The court heard that McGirr had started betting on horses and football but then spiralled out of control when he began playing online Blackjack.
At one stage he was carrying out thousands of transactions a day.
Describing the case as "a moral tale of almost Biblical proportions", Judge David McFarland said online gambling companies needed to look at how they did business.
'Worst addiction'
He said that people with addiction problems could - apparently unchecked - gamble away thousands of pounds with a single click of a mouse.
He also criticised credit card companies who he said had, at one time, seemed intent on throwing loans at anyone who asked for them.
Former County Armagh GAA footballer Oisin McConville, who himself had a highly publicised addiction to gambling, was in court to support the defendant.
Also in court was Sister Consilio, a nun who runs the Cuan Mhuire addiction centre near Newry.
She told the judge that gambling was the worst addiction they dealt with at the centre.
She explained how they had been working with McGirr and how he had attended a 12-week residential course in Galway to try to tackle his problem.
'Fascinated'
She said she believed he was genuine in his attempts to beat his addiction and that he had already been helping to counsel other people with similar problems.
The court heard how McGirr had become fascinated with gambling while still a student and how that fascination had turned into a much bigger problem when he started work and found himself with access to credit.
He took out overdrafts on two separate bank accounts, took a loan of almost £5,000 from the Credit Union and acquired five credit cards.
All this money was quickly lost and it was then that he began to steal from his employer.
His lawyer said he had been surprised initially to get away with it and that, while the problem was serious, it had not been completely out of control at that stage.
He said that happened when McGirr moved onto playing blackjack.
Earlier, a crown lawyer had explained that there had been no recompense made and that there was no immediate sign of this happening.
However, Sister Consilio said that, as part of his treatment, McGirr would have to try as best he could to pay the money back.
Sentencing him, Judge David McFarland said, he had not only betrayed the trust placed in him and defrauded the company he worked for but potentially put at risks the jobs of all his fellow employees.