Were Billy Wright jail lapses accidental or deliberate?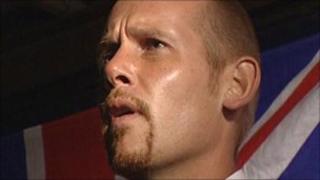 As the findings of the public inquiry into the death of loyalist prisoner Billy Wright in 1997 are about to be published, BBC Ireland correspondent Mark Simpson examines the key issues.
A quick look at the facts surrounding Billy Wright's death in prison leads some people to only one conclusion - it was an "inside job".
In other words, the killers were helped by the prison or state authorities to get rid of Billy Wright.
After all, back in 1997, the notorious Loyalist Volunteer Force (LVF) paramilitary leader was openly threatening the peace process at a time when the Stormont peace talks were entering a crucial stage.
Therefore, the three-man INLA unit which shot him inside prison must have been helped, directly or indirectly.
On the day they murdered Wright, the INLA gang:
knew exactly where to find him;
knew what exact time he would be there, and;
had two guns and ammunition to kill him.
This was in spite of the fact that they were prisoners in what was supposed to be one of the most secure jails in Europe.
From the day in December 1997 when Wright was shot dead, his father David has been convinced that his son was a victim of a state-sponsored execution.
However, jumping to immediate conclusions is not what public inquiries do.
Lord MacLean, and the inquiry panel, have spent five years and £30m taking a very long and detailed look at what happened.
They have not just looked at the conspiracy theories; they have studied the facts.
Without doubt, they have discovered flaws within the regime at the Maze prison at the time of Wright's killing.
What is not known is whether they believe any of the failings were deliberate.
It is clear from a wide variety of sources that prisoners had more freedom than would have expected inside a high-security jail.
According to DUP MP Ian Paisley Jnr, it was a case of "the zoo being run by the animals, not by the wardens."
An internal prison document in February 1997 stated: "We have nurtured a monster which is now beyond our control in any meaningful sense."
So was it this general lack of control which was to blame for Wright's death, or something more sinister?
The man who pulled the trigger, INLA inmate Christopher 'Crip' McWilliams, was asked on his release from jail whether he was helped in any way in the murder mission.
He replied: "The only ones who helped us in the operation against Billy Wright were the three men who conducted the operation along with the leadership of the INLA.
"A decision was taken to eliminate Billy Wright solely because he was the man who had opted to direct a ruthless campaign of slaughter against innocent Catholics."
McWilliams is now dead, so the Inquiry panel were left to make up their own minds as to whether or not they believed him.
Wright was killed two days after Christmas, as he entered a prison van which was taking him from H Block Six to the visitor block where he was due to see his girlfriend.
INLA inmates were housed in a different wing of the same block.
Three prisoners, led by McWilliams, climbed through a pre-cut hole in a security fence, onto the roof of the block and then confronted Wright in the prison van, firing seven shots at point-blank range.
Among the issues the inquiry team had to consider were:
Why were INLA and LVF prisoners in the same block of the prison even though they were bitter enemies?
Why was there no prison guard in a key observation tower outside the block?
How was the INLA able to smuggle in two guns and ammunition?
Why were INLA inmates given a document which included a list of LVF prison visits?
Why was a CCTV camera outside the INLA wing not working?
Why did no-one spot a large hole in a security fence?
Was intelligence information indicating that Wright was under threat from the INLA passed on to the prison authorities?
In some ways, the questions above can be boiled down to one fundamental issue: were the security lapses accidental or deliberate?
To see the enhanced content on this page, you need to have JavaScript enabled and
Adobe Flash
installed.