Ryanair low fares 'cannot last' says Michael O'Leary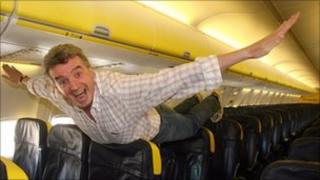 Ryanair's low fares cannot continue in the long term, chief executive Michael O'Leary has said.
"We have to move away over the next number of years from being obsessed with having the lowest fares in the market," he said.
Mr O'Leary said the Dublin-based airline would move towards highlighting its young aircraft fleet and "terrific" in-flight service.
He said they needed to rebrand as supermarkets Tesco and Lidl had done.
"At the moment we just pile it high and sell it cheap," he told the Observer.
"Lidl started off cheap and cheerful but now it is very sophisticated - it is no longer perceived to be cheap and cheerful."
Mr O'Leary, who is known for his controversial money-saving proposals such as standing seats and only having one pilot, acknowledged Ryanair would need to become more sophisticated as the business matures.
"Growth rates start to slow down significantly and it becomes more about the brand game, telling all the lies that you need to tell to get the fares up," he said.
Mr O'Leary said he would quit as chief executive when Ryanair is double its current size.
"When we are twice the size we are now, at around 400 aircraft, then the growth rate slows down to 2% or 3% per year," he said.
"The shareholders will want a return. You will need a different management then.
"We won't need my dog and pony show, which is about generating publicity.
"Every company has to move from being the high-growth Robin Hood."