Free Presbyterian church to protest at Pope's visit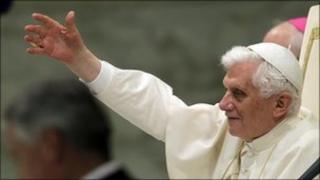 A 60-strong delegation from the Free Presbyterian Church will travel to Scotland this week to protest against the Pope's visit.
The Church has published a booklet spelling out its opposition.
Pope Benedict is due to begin his four-day visit to the UK on Thursday.
The founder of the Free Presbyterian Church, Ian Paisley, now Lord Bannside, is among the group travelling to Scotland.
He said he was taking part in the protest to highlight "concerns".
"This man is coming to this country at a time when his own church is very deeply divided and, rightly so, because of the behaviour of many priests within the church and his evident desire not to enter into this matter and deal with it," he said.
"I have been visited by many Roman Catholic people who are gravely pained by the actions of Rome in regard to the attacks on young children.
"Many of their children have been attacked. I think that I have a right, everybody has a right to make their presence felt on this issue.
Mr Paisley said the protest by the church would be peaceful.
"We will be having a meeting in the place where the church of Scotland was formed and was presided over by John Knox. That building will be at our disposal.
'Legitimate protest'
"We will unfurl a banner and have a public meeeting outside that building in the Grassmarket.
"What we're doing, we're making a legitimate protest about something that is entirely wrong and I am looking at myself as a person who is prepared to champion those who have been very, very badly treated by these priests of Rome." he added.
A spokesman for the Catholic Church declined to comment to the BBC about Mr Paisley's protest.
A weekend poll commissioned by the BBC found 70% of British Catholics expect the Pope's visit to help the Catholic Church in the UK.
Nearly half thought he should drop his insistence on clerical celibacy.
And 52% of the 500 Catholics surveyed said the sex abuse scandal had shaken their faith in the Church's leadership.