Health chair says confusion remains over abuse brothers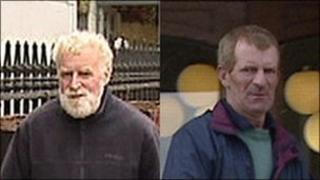 The chairman of the Stormont health committee says he and his colleagues remain "confused" as to who was responsible for allowing child sex offenders to return to Donagh, County Fermanagh.
On Thursday, the chief executive of the Western Health Trust told the committee that the social worker in charge of James and Owen Roe McDermott had acted properly by returning them home.
A judge deemed the brothers unfit to stand trial in June. They are now in hospital for treatment.
The committee had questioned why it took the Western Health Trust so long to be notified and then to react to the brothers being allowed to continue to live in the community.
MLAs have been hearing evidence on how the men were allowed to return to live in the village where they had abused children over a 30-year period.
As the brothers were deemed unfit to stand trial, a judge ruled they were to reside at a residential address approved by their supervising officer.
At Thursday's health committee hearing, the chief executive of the Western Health Trust, Elaine Way said the social worker had acted properly by returning them home as she did not have the power to place them in the care of health professionals, but the chair of the health committee, Jim Wells, said the justice committee were given a different answer.
"The evidence we received seems to be at odds with what was given to the justice committee last week and we just can't tie down exactly what powers the social worker had in this case so there's still a great deal of confusion out there," he said.
The health committee said it was also concerned about the Department of Health's reference to the need for establishing multi disciplinary teams within the health trust, something that had already been recommended after the McElhill tragedy in Omagh in 2007.
Lifetime orders
Ms Way also told the committee that she is to meet members of the Donagh community next Tuesday to explain the process that led to the McDermott brothers being sent back home.
Last week, the Justice Minister, David Ford, said a clerical error had no bearing in the decision to allow the McDermott brothers to return to Donagh.
A court official typed up a supervision and treatment order but left out the address where the brothers should live.
The four McDermott brothers faced a total of 60 abuse charges spanning five decades. One of them is dead, another was jailed in June.
In June, James and Owen Roe McDermott were found mentally unfit to stand trial for sexually abusing children in Donagh.
They were given lifetime orders banning them from being with children but were allowed to return to their home in the village, close to children's play areas and to the people they had abused.