McDermott abuse case social worker 'did nothing wrong'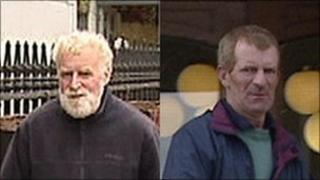 A social worker involved in a County Fermanagh child sex abuse case did not do anything wrong, her employer has said.
The chief executive of the Western Health Trust said the social worker had acted within the law in her dealings with James and Owen Roe McDermott.
Elaine Way made her comments to the Stormont health committee.
It is hearing evidence on how the men were allowed to return to live in the village where they had abused children.
In June, James and Owen Roe McDermott were found mentally unfit to stand trial for sexually abusing children in Donagh over a thirty year period.
They were given lifetime orders banning them from being with children but were allowed to return to their home in the village, close to children's play areas and to the people they had abused.
They have since admitted themselves to hospital for treatment following pressure from concerned residents.
On Thursday, the Stormont health committee questioned why it took the Western Health Trust so long to be notified and then to react to the brothers being allowed to continue to live in the community.
Committee members also questioned officials from the Department of Health.
The judgement handed down in the McDermott case stipulated that the brothers were to reside at a residential address approved by their supervising officer.
Ms Way told the hearing that supervising officer, in this case a female social worker, could approve or disapprove an address but could not determine where the person should live, such as placing them in a hospital setting, for example.
The chief executive explained that had the social worker chosen to place the men in the care of health professionals, she would have been undermining the decision of the court.
She also told the committee that she is to meet members of the Donagh community next Tuesday to explain the process that led to the McDermott brothers being sent back home.
Last week the Justice Minister, David Ford, said a clerical error had no bearing in the decision to allow the McDermott brothers to return to Donagh.
A court official typed up a supervision and treatment order but left out the address where the brothers should live.