IFA block Northern Ireland v Italy game ticket sales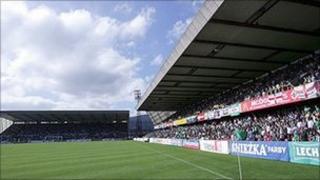 The Irish Football Association (IFA) has asked a number of websites to stop selling tickets for the game between Northern Ireland and Italy next month.
The IFA has not yet printed tickets but some websites are selling them for several times their face value of £40.
One agency told the BBC the tickets were guaranteed and would be from the allocation for the Italian FA for the away section.
The IFA has said it has heard of tickets being sold for up to £350.
It says it is trying to find the source of the tickets in order to stop the sale.
About 14,000 fans are expected to attend the game.
The majority, at least 9,000, will get tickets with their name on them through the IFA's block-booking scheme for all home games.