Londonderry priest meets dissident supporters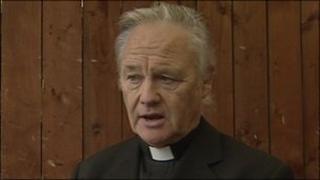 A priest in Londonderry who challenged dissident republicans over their violence has met with families who claim they are being harassed by the PSNI.
Ballymagroarty Parish priest Father Paddy O'Kane attended to listen to the families' complaints.
The private meeting was hosted by the Rosemount Resource Centre.
Dissident republican supporter, Ciaran Boyle, claimed his young son had been harassed by the police.
"I'm a republican but I'm also a father of a five-year-old boy who was tore from a car by armed members of the PSNI.
"There was a woman in the shop opposite where we were searched who came running out and took the child away because she feared for his safety as the PSNI were pointing guns at the car."
Fr Paddy O'Kane agreed to the meeting after talks with the 32 County Sovereignty Committee.
During the talks, he said he criticised those behind the bomb attack on Strand Road police station and recent hoax bomb alerts.
The 32 County Sovereignty Committee is linked to the Real IRA which has claimed responsibility for a number of recent attacks in Derry including the murder of Kieran Doherty in February.