Paterson warning on parades commission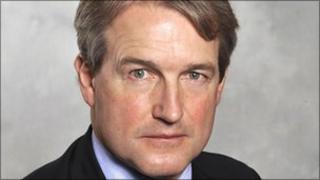 The Secretary of State has warned that the government will reappoint the Parades Commission if there is no local agreement on parading.
Owen Paterson told the NI Affairs Select Committee that the current impasse must be resolved urgently.
He said the alternative option of police making decisions on individual parades was unacceptable.
Parading legislation agreed by Sinn Fein and the DUP was rejected by the Orange Order earlier this year.
The draft Public Assemblies, Parades and Protests Bill has already been consulted on and is due to go through the Northern Ireland Assembly this autumn.
In his first appearance before the Westminster committee, Mr Paterson said he regretted the violence in Ardoyne which left 80 police injured in battles with suspected dissident republicans.
But he said that parade was one of only a small number had been contentious.
"Is it really worth it for those small number of parades to have that whole image of parading distorted on world television?
"I think the Parades Commission has done a good job.
"It took away the difficulty of embroiling the police in difficult decisions on routing.
"It is absolutely not an option to leave a hole."
The DUP's Jeffrey Donaldson said he believes what is on the table now is the best way forward, but that it could only be implemented if those involved on the ground agreed.
"It will introduce new laws that will mean for the first time that it is a criminal offence to interfere with a parade, to annoy those who are on parade.
"I think that it offers human rights protection for those who wish to engage in parades.
"In the end the politicians can agree things but unless the people who actually use the legislation agree then it's a bit pointless," he added.
Meanwhile Owen Paterson has been meeting the First and Deputy First Ministers in London to discuss the plight of savers and investors who lost money in the Presbyterian Mutual Society.
The Secretary of State, who sits on the ministerial working group with Peter Robinson and Martin McGuinness said a "number of technical matters stilll require work" but he "remains hopeful a solution will be reached within weeks".