Guess who is coming to Great Britain?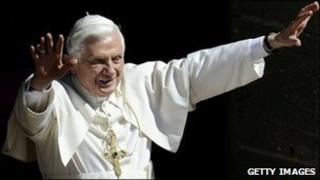 Pope Benedict XVI is visiting Great Britain but he will not be coming to Northern Ireland.
BBC News Online in Belfast asked people in the city whether they knew who the VIP expected in GB was and whether they felt the Pope's visit had any relevance for them.
JOSEPH KERR, BELFAST
"I know the Pope is on a visit. But would I travel to see Pope Benedict? No. I think it is costing Catholics a fortune. The Catholic Church here has a lot to make up... people have flown from the Church. I think priests should get married and have families, that would ease all the pressure.
"It is a pity that Pope Benedict is not coming to Ireland. Why not, when he is coming halfway? Perhaps the reason is that there has been such bad press. I did go and see Pope John Paul II. I was a scout and the bus was so full that we had to squeeze on and sit on the floor all the way to Galway.
"Nowadays, my children go to a mixed school. I see more of a community spirit in the Protestant community - it would make me think twice about changing camp."
PETER, BELFAST
"I know the Pope is visiting Britain. Personally, I would have liked to have seen him coming to Northern Ireland. I think you can get too fixated with one particular issue, when there is a lot more to the Church than that. It is not just about the Pope, it is about the people.
"I would go to see him if he came anywhere in Ireland and I'm not a Catholic. I remember very well the visit by Pope John Paul II. He also gave a real boost to the peace process and I do support the peace process."
VIOLET AND ANNE, EAST BELFAST
"Is Bill Clinton coming?
"We didn't know about the Pope and we don't want to be rude, but he would be of no relevance to us.
"Perhaps for some people the visit would mean something. But it would not be for us."
ANNA SOLECKA, WARSAW AND BELFAST
"I remember Pope John Paul II and I went to see him in Poland.
"I'm from Warsaw.
"I would go and see the Pope if he were to come here but I'm not going to Scotland."
JAMES TUMILTY, BELFAST
"I know Pope Benedict is visiting but I have no interest in the slightest.
"Some people may have deep religious feeling. But religion does not mean much to my generation.
"I was brought up with religion and, as a kid, I went to church.
"But as soon as I became a teenager, I chose not to go to church - it was an excuse to lie in bed and watch the football."
ANNE, BELFAST
"I know that Pope Benedict is coming and he is the head of the Catholic Church.
"I am sure people would want to go. Would I go? Well, I am not happy to pay £25 to go to see him.
"I think that would put people off. Also, Pope Benedict does not seem to have the same magnetism as Pope John Paul II."