Remembering when the Pope came to Ireland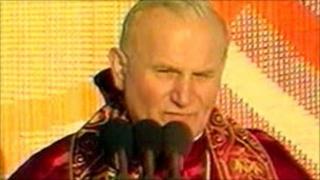 I was 18 years old when the Pope came to Ireland in the summer of 1979.
I remember John Paul II as a small figure on his knees kissing the tarmac of a Dublin airport runway, his cream cape whipped away by the wind. Or did I just imagine that?
I remember Dana singing the Pope song, Totus Tuus, the lines of yellow and white papal bunting, the dinky Popemobile - a smart car for a Pontiff of the people.
We went to a number of preparatory sessions in the parochial hall in Ballymena, and rehearsed Totus Tuus so much, I still know it so well, I could sing it at the drop of a cardinal's red biretta.
Our parish - along with thousands across Ireland - arranged a bus to go to Galway for the young people's Mass.
The bus set off on a beautiful sunny day and we seemed to drive forever, right through the middle of Ireland. It was a kind of a magic bus adventure with the Pope as the sun holiday at the end.
It was a bus of young people - the jokers at the back, the goody goodies at the front.
Hands up where I was. Yes, that's me, near the front, averting my eyes with true religious zeal when we stopped off occasionally to let the boys out. They were always getting caught short after overdosing on cans of lemonade and had to take a quick pee on assorted whin bushes at the side of various Irish country roads.
It was a long way. I remember the stone cold floors of the classrooms in a school somewhere in the middle of nowhere that turned out to be Ballinasloe.
We spent the night there in our sleeping bags. My spinal column complains to me often about that night.
Then up at dawn and on our way to the wild fields of Galway to Ballybritt racecourse where thousands of young people had gathered to get a glimpse of this man.
There, on the stage, Bishop Eamonn Casey and Father Michael Cleary whipped up the crowd.
"Listen, listen... Is that a helicopter, I hear?" and we all cheered and roared and sang "By the rivers of Babylon" jumping about in the icy field, wishing we had remembered to go to the toilet.
Then, suddenly, he was among us. He told us in endearing English, heavy with a Polish accent, that he loved us.
"Yong people of Ireland, I lof you," he said - and we cheered wildly and tried to get within distance of the Popemobile as he headed out among the crowds.
This was in the days before concerts at Slane, you understand. And this was the nearest I had ever been to a major open air event.
It was euphoria, Catholic-style.
"It's history, you're part of history," my father said. He had held a banner in the Eucharistic Congress of 1932, and still talked about it.
And it was history. Perhaps the joy came from the fact that this man had come to see us.
We didn't get many famous visitors to Ireland back then.
You couldn't get a lot of pop stars to travel north, what with the bombs and the shootings on the television.
Popes before that had seemed distant, autocratic figures, draped in mystery, who spoke in a foreign language and sent missives to be read out to the flock.
John Paul II changed all that. He came to us.
Funny, watching the old footage now, I am struck by how old I thought Pope John Paul II was, when I was 18.
But how young was the man who visited Ireland compared with the elderly Pope pictured at the window of his apartment in the days before his death in 2005.
And in the interim, he travelled the world. I visited his native Poland in the days when it was making its own path, away from communism.
It seemed a grey country, ugly with industry. Just as the world behind the Berlin Wall seemed devoid of colour in the days before the wall fell.
When he died, there was old footage of the Pope's visit to Poland shortly after his election.
The huge, bleak blocks of flats and bleak boulevards are teeming with people - thousands upon thousands - all cheering for him.
So many, there were so many who wanted to be there.
They lit up the streets.
And in the Vatican in the hours and days following his death, what was most powerful was the silence - that thousands upon thousands could gather to remember and pray in such a revered silence.
Pope John Paul II's visit to Ireland seems like a lifetime ago.
I thought I was grown up, but I was just a teenager and probably a lot nearer to heaven than I am now. And times have changed for Catholic Ireland.
Dana sang the song but she never did get to be president.
The two men who were centre stage with Pope John Paul II in Galway made a different kind of history.
Both turned out to be fathers in far more than the clerical sense - and both went on to provide scandals that rocked the Catholic church in Ireland more than any visit by a Pope.
"I was there," I tell my son as we watch the old footage of the Pope's Irish visit on television.
"Where, where?" he says, wondering if he might pick my red curly head out amongst the cast of millions.
So it was history in the making. But the Ireland of 30 years ago is a foreign country... They did things differently then.
I am not travelling to England to see Pope Benedict XVI. If he had made the journey to Northern Ireland would I have gone? Maybe.
What is the average age of those who travel for this Pope?
No question of a special youth mass with 280,000 people, 77 priests concelebrating and 800 priests giving out communion like we had in Galway in 1979.
But I still carry a candle for Pope John Paul II.
It might seem irreverent, but his visit to Ireland was up there with watching Neil Armstrong stepping on to the moon or the day Elvis died - and we all went outside and cried.