Concern over unnatural seal deaths in County Down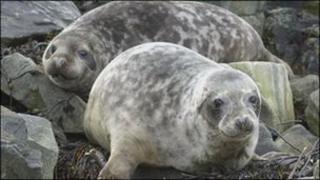 The Environment Agency has expressed concern after several seals which suffered violent deaths were found along the County Down coast.
Sixteen seal carcasses recovered in the area between late June and the end of November 2009 were examined.
Twelve showed signs of unnatural death, including evidence of drowning, fractured jaws, and extensive knife cuts made after their deaths.
Several had their heads cut off while others appeared to have gunshot wounds.
Some seemed to have suffered blows from sharp objects.
A further nine of 18 found between 12 September and 10 November 2008 had also suffered unnatural deaths.
Protected species
Most of the harbour and grey seals - which are both protected under European and Northern Ireland legislation - were recovered from Strangford Lough, Minerstown and Dundrum Bay.
The Environment Agency said circumstantial evidence indicated interaction with some form of net in at least two cases, but there was no proof the seal deaths resulted from legitimate, licensed fishing activity.
"Neither is there evidence linking these deaths to the marine current turbine being trialled in the Strangford Narrows, as this would not inflict the sharp cuts seen," the agency said.
The agency's Declan Looney said it was "investigating the causes of this mortality and is liaising with other relevant organisations to address the issue."
"Members of the public can assist by reporting all dead seal strandings to NIEA on 028 4461 5520."
"Anyone who witnesses suspicious activity involving seals should report this immediately to their local PSNI station, telephone 08456 008 000 or call Crimestoppers anonymously on 0800 555 111.
"Any information on suspected illegal netting for sea trout and salmon should be reported on 0800 80 70 60."