Dublin Mayor Gerry Breen expects Queen Elizabeth visit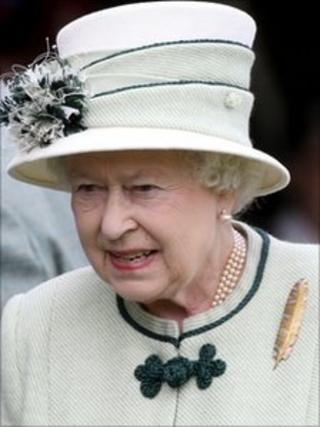 The Lord Mayor of Dublin has said he expects Queen Elizabeth II to visit the city within the next 12 months.
A British monarch has not been to the Irish Republic since it became independent in 1921.
On Monday, an independent republican member of Dublin City Council put forward a motion opposing the visit.
However, Mayor Gerry Breen said that he expected the Queen to come soon and that he believed she would receive a "warm welcome".
"I think there is a genuine affection there," he said.
"The Irish people are very welcoming of English people and of the English nation."
Independent republican Louise Minahan's motion was pushed off the agenda on Monday.
After the meeting, during which about 50 republican protesters gathered outside, Ms Minahan said that she would continue her opposition to any visit.
"We are protesting to highlight the opposition to the proposed invite to the British head of state and the commander-in-chief of the armed forces, Elizabeth Windsor.
"There is nothing wrong with England or the English people, many of whom believe that the British state has no rights in Afghanistan, Iraq or here in Ireland."
Earlier this year, Irish prime minister Brian Cowen said that he saw "no obstacle" to a visit and expected it to happen before the end of 2011 when the current Irish president, Mary McAleese, stands down.
A visit by Queen Elizabeth II is also opposed by Sinn Fein, which has said "no official welcome should be accorded to any officer of the British armed forces of any rank".
BBC Ireland correspondent Mark Simpson said a visit by the Queen was likely in the middle of next year.
In August 1979, Lord Louis Mountbatten, a cousin of the Queen and an uncle of her husband the Duke of Edinburgh, was murdered along with two teenage boys in an IRA bomb attack on a boat off the coast of County Sligo.