Derry priest Fr Paddy O'Kane to meet dissident families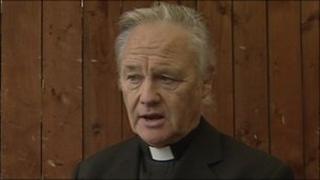 A priest in Londonderry who challenged dissident republicans over their violence is to meet families who claim they are being harassed by the PSNI.
Fr Paddy O'Kane from Ballymagroarty agreed to the meeting after talks with the 32 County Sovereignty Committee.
During the talks, he said he criticised those behind the bomb attack on Strand Road police station and recent hoax bomb alerts.
However, he said he had a pastoral duty to listen to the families' concerns.
He added it did no good to demonise people, but instead it was better to appeal to their better natures.
"I am going there simply to listen, I have no intention of entering into the political affray," he said of the meeting."
"I have raised no expectations for these people that I will be fit to do anything."
"I am going to hand this over to the politicians and to the press."
The 32 County Sovereignty Committee is linked to the Real IRA which has claimed responsibility for a number of recent attacks in Derry including the murder of Kieran Doherty in February.