NI's top judge Sir Declan Morgan addresses public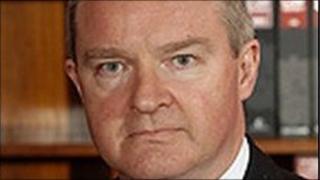 Northern Ireland's lord chief justice, Sir Declan Morgan, has said he wants the public to gain a better knowledge of the work of judges.
Sir Declan, NI's most senior judge, was speaking at the the Royal Courts of Justice to mark the new legal year.
He vowed to find ways for the judiciary's role within the justice system to be better explained.
The lord chief justice argued this was important so the public understand what they can and cannot do.
He said it was for the NI Assembly to make or comment on policy or legislation to set or increase maximum sentences.
However, members of the judiciary have taken part in District Policing Partnership events to speak about their obligations and responsibilities when granting bail and sentencing.
Sir Declan said: "I see this as part of our responsibility to ensure and enhance public confidence in the justice system.
"I am fully committed to continuing to build on these relationships and to identify other ways in which authoritative but readily understandable information about the work of the judiciary can be disseminated."
Outlining initiatives taken forward by the judiciary in the past year, he said a Criminal Courts Judicial Committee had been established to look at issues relating to the progress of criminal cases and to make recommendations to him on ways to tackle delay.
A Sentencing Group has also been established which has led to a new system to identify areas of need for further sentencing guidelines or guidance.
Sir Declan said he would be happy for the public to identify the areas they feel that guidance should cover.
Those currently being considered are domestic violence, dangerousness, serious sexual offences, environmental crime, attacks on the vulnerable and people trafficking.
He also revealed that the judiciary is looking at the potential for greater use of mediation, or alternative dispute resolution, in appropriate civil cases.