Comedian 'Our William' Caulfield on NI humour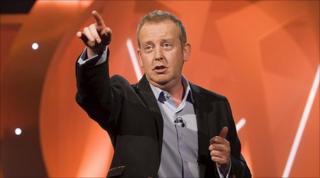 A new comedy show poking fun at everyday life from a "unique Northern Ireland perspective" is to hit television screens.
"Our William" is a four-part series presented by County Armagh comedian William Caulfield who is best known for impersonating his comedy hero, James Young.
Caulfield casts off his long-time alter ego to share his personal observations on matters such as relationships, money, health and travel.
The Lurgan-born entertainer also introduces some new characters to his repertoire, in a series of comedy sketches interwoven with his stand-up routine.
'Fresh'
He says he hopes the show will mark a move away from the Troubles-related themes which have long been a feature of Northern Ireland comedy.
"As soon as a Northern Ireland comedian opens his mouth, people expect them to come out with political jokes," he says.
"I think that a lot people want to move on and forget about the past, particularly the younger generation.
"So yeah, I'm sincerely hoping that it will be a breath of fresh air, that here's a Northern Ireland comedian with a Northern Irish voice and we're having a good laugh and it's got nothing to do with what colour our flags are."
Caulfield says he jumped at the opportunity to present the show as himself, after years impersonating the man who he describes as "probably Northern Ireland's' greatest comedian ever - the late, great James Young".
'Inspired'
"As I child I was a huge fan. What really impressed me was the fact that someone could stand on a stage and just with his voice, make people laugh, make people cry.
"He didn't have anything else, he was just standing there - so that was my first introduction to a stand up comic."
"But naturally I jumped at this opportunity because it was the chance to be myself without trying to impersonate other people - it was a real release and something that I really enjoyed."
Caulfield says he didn't set out to be a comedian but thinks his previous job as a car salesman helped him prepare for his comedy career, in a way.
"Often when I would tell people how much it was going to cost them to change their car, they would look at me and say 'You should be a comedian'. Little did they know.
"Some people would say selling cars and telling jokes is the same thing!"
'Unique'
Despite his determination to steer clear of flag gags for this production, Caulfield admits that his debut into the world of comedy and public performance was as a direct result of a grim milestone reached during the Troubles.
He was inspired to begin writing when the death was announced of the 3,000th person to be killed as a result of political violence in Northern Ireland.
"That sort of shocked me to my very being and I though well, if James Young was alive he would have written a poem about this - and I did."
The title of the new show is both a nod to his hero and to his own successful one-man theatre show, "Our Jimmy".
The programme takes a wry look at the mundane aspects of everyday life "which could happen anywhere" but Caulfield insists it has a heavy local flavour and a particular "Northern Ireland take" on the subject matter.
"We are a unique little province and we have our own wee foibles," he said.
"It's not so much the accents, it's the way we deal with things and approach things from a rather bizarre angle, as viewers of the show will find out."
The first episode of 'Our William' is to be broadcast at 2245 BST on Wednesday, 8 September on BBC One Northern Ireland.