Five boats sink in severe weather at Newcastle quay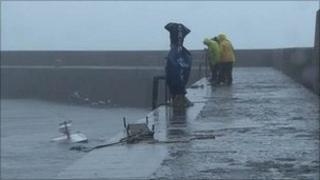 Five boats have sunk in Newcastle harbour, County Down.
High tides and strong winds are believed to have caused the damage which happened on Sunday night.
Harbour master Brin Lewis said the damaged boats were along the wall of the south quay.
"We don't know the extent of the damage as yet. But, as the tide is now rapidly ebbing. the owners will be able to assess the damage and, hopefully, pump them out and restore them," he said.