Newry Democrat bought by Alpha for undisclosed sum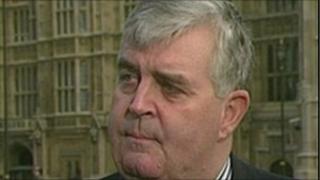 The Newry Democrat newspaper has been bought by the Alpha Newspaper Group, owned by former Unionist MP John Taylor, now Lord Kilclooney, and his family.
It was bought from Thomas Crosbie Holdings (TCH) for an undisclosed sum.
A sister paper, the Down Democrat, was effectively closed by being merged into the Newry paper earlier this year.
Last week TCH said it was seeking a 10% pay cut from staff at another of its papers, the Irish Examiner.
Alpha announced plans to close three local papers in the Irish midlands last week.
Up to 30 workers at the Roscommon Champion, Longford News and Athlone Voice newspapers could lose their jobs.