Four in court after raids on seven suspected brothels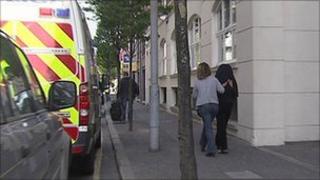 A woman and two men have been charged with human trafficking following raids at seven suspected brothels in Belfast.
The woman, who is 21, and the two men, aged 33 and 46, face charges of trafficking for sexual exploitation, controlling prostitution, brothel keeping and money laundering.
Another woman, who is 22, is charged with controlling prostitution.
All four are expected to appear before Belfast Magistrates' Court on Monday.
The raids, which were carried out on Friday, were part of a UK-wide operation called Operation Apsis.
Police said its objective was "to recover victims, both UK and foreign nationals" who have been trafficked for sexual exploitation.
In all, 16 properties were searched across the UK by a number of police forces. Seven suspected brothels in Belfast were raided.
Police said 12 women and three men who, they believe, were being forced to work as prostitutes, were rescued. They would not say how many of them were from Northern Ireland.