Lurgan E. coli oubreak source 'under investigation'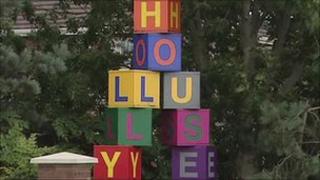 The Public Health Agency is working to establish what caused an outbreak of E. coli O157 at a nursery school near Lurgan.
So far, 12 children who attend Holly House in Dollingstown have the bug.
It's understood none of the children is seriously ill. However, the nursery will remain closed until the infection source is identified.
The nursery said there was no evidence to suggest it was the source of infection.
It is understood tests on food have been clear. The nursery said their primary concern was for the children, their families and the staff.
Operations Manager Audrey McCracken said the nursery was working closely with PHA staff.
"Last Monday, the PHA notified the nursery that there was a confirmed case of E. coli," she said.
"They came out to visit the nursery, told us there was nothing to be alarmed about at that stage and gave us advice and information."
By Wednesday, another case had been identified and Ms McCracken said that in the best interests of the children, they decided to close.
She said two different sample tests taken by PHA staff at the nursery had come back clear.
"We have been working very closely with PHA who have been very supportive and have given us good advice. Our staff have been wonderful. The nursery has been open all weekend to offer advice to parents and take specimen samples from children.
"Unfortunately, it does throw a spanner in the works for those who are relying on day care and nursery. We would like to think we would be able to open in the next few days but we will be guided by the PHA.
"We greatly appreciate the response of parents which has been overwhelmingly supportive."
Earlier, Dr Neil Irvine, of the PHA, said the children were tested when the agency became aware of one confirmed case and another possible case of the bug.
"All appropriate infection control measures are being taken.
"The nursery is co-operating fully with the PHA."
A mother whose child is at the nursery said: ""It is very worrying because of the seriousness of E. Coli. But as far as I know none of the children seems to be very ill.
"I could not fault the nursery. They are managing very well and have provided lots of information and support."
The alert began early last week when parents collecting children were advised that the nursery would close on Thursday and Friday.
They were asked to collect stool samples from their children at a 48-hour interval to determine if they had the bug. They were encouraged to contact their GP if their child developed diarrhoea.
"Locally, it is a surprise that an outbreak of E. coli has taken place," said SDLP councillor for the area, Mary McAlinden.
"I think it would be everybody's priority to get to the bottom of what has happened."
Symptoms normally develop after ingesting contaminated foods or liquids or having been in contact with infected animals.