Low-cost airline bmibaby provides extra Belfast flights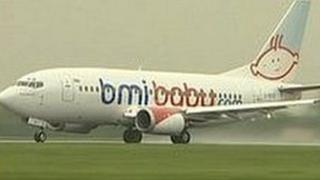 A low-cost airline is to schedule extra flights from Belfast International Airport after Ryanair announced it was pulling out of the city.
Bmibaby is to provide five extra flights a week to East Midlands.
Ryanair will stop operating from George Best Belfast City Airport on 31 October because of delays in approving a controversial runway extension.
There will now be three bmibaby flights a day on Monday, Wednesday, Thursday and Friday and two on Sunday.
Ryanair chief executive Michael O'Leary sparked a row with ministers at Stormont after he criticised them for airport development delays.
While the 50 Ryanair staff working on the Belfast routes will be offered redeployment opportunities, Mr O'Leary claimed his move would cost another 1,000 jobs which rely on the operator's presence in the city.
His decision comes after a planning application lodged two years ago to extend the runway by around 600m (1,968ft), thus opening it up to destinations further afield, was referred to public inquiry by the Stormont government.
Ryanair flights between Belfast and London Stansted, Liverpool, East Midlands, Bristol and Glasgow Prestwick Airports will be withdrawn at the end of October.