Sacked J&G Engineering workers win back pay award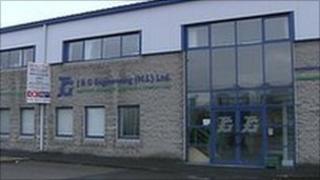 About 60 workers made redundant in January have been awarded 90 days' back pay by an industrial tribunal.
Electrical contractors J&G Engineering had debts of about £2.3m when it went into liquidation just after Christmas.
An industrial tribunal held that the firm broke employment law by failing to consult with the workers.
The firm was told to pay them for the full 90-day period of consultation, which should be carried out when employers dismiss 20 or more workers.
The case was brought by the union Unite, after the workers were made redundant without any prior warning.
The tribunal backed the union's claim that J&G Engineering had breached its duty to consult the workers and had taken "no steps at all to provide any consultation".
It found "no evidence of any special circumstances in existence to mitigate the failure".
The judgement covers all the sacked workers, including non-union members.
Unite representative Jackie Pollock said: "This goes to show what unions can do on behalf of their members when they pursue these types of cases.
"The tribunal agreed that J&G Engineering had failed to consult with its workers.
"The Department of Employment & Learning (DEL) will now pay up to eight weeks pay to the former workers at J&G."
At the time when the workers were made redundant, it was reported that the company had cash flow problems and no longer had sufficient funds to pay them.
The firm had assets worth almost £750,000 to pay its preferential creditors.