Western Health Trust 'in breach' of duty to boy's carer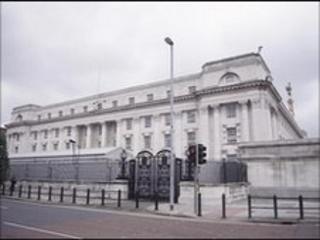 A health trust breached its duty to a woman who asked for help to care for her disabled son, a judge has ruled.
The ruling was made in a case involving an autistic 14-year-old boy from County Tyrone whose psychotic tendencies led to him to threaten his younger sister and attempt to take his own life.
Mr Justice Treacy said it was "simply shameful" that the Western Health and Social Care Tust failed to respond to letters written by the teenager's mother.
The judge also said that that more than 40 requests from carers to the health trust should have been addressed differently.
The woman, whose role as her son's main carer led to her having a breakdown, brought judicial review proceedings after being told there was no budget available to meet her assessed needs.
'Crisis situation'
During the case the court was told that the boy had an intense dislike of females which resulted in him making threats against his sister and attempting to hang himself in 2008.
A social worker who carried out an assessment on the boy's mother recorded that she had no family to assist her and urgently needed time out from her caring role.
Mr Justice Treacy criticised the health trust for not replying to correspondence written by the woman.
He said: "Given the crisis situation this family faced the failure to respond to these letters was simply shameful."
The judge granted three declarations sought by the mother which stated:
- the duty on the Trust includes a duty to provide a range and level of personal social services to the children in need within its area and to the families and carers of those children in order to safeguard and promote the welfare of the children and the upbringing of those children by their families;
- the Trust was in breach of its duty by failing to carry out an assessment on the applicant's mother as a carer of a disabled child within a reasonable time frame following her request to do so on January 29, 2009;
- the Trust acted in breach of its duty by failing to carry out assessments within a reasonable time of carers of disabled children who had requested such an assessment during the period 2007-2010.
Speaking after the case the teenager's mother said: "The Trust made me feel as if I was exaggerating all our problems in order to offload my son."
She expressed hope that the ruling could help others saying; "If it even helped one other family to not have the isolation we had it will be worthwhile."
A spokesman for the Children's Law Centre, which helped the woman to bring the case to court, said the ruling had the potential to impact on "hundreds of people".
Eamonn McNally, a mental health solicitor with the centre, said they were already dealing with a number of families in similar situations who either "can't get an assessment carried out within a reasonable period or access to the appropriate services once those assessments are carried out".