Irish minister calls for ATM fees to 'deter raiders'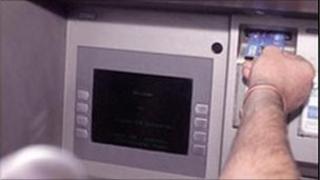 An Irish government minister has been criticised for suggesting that people be charged for using cash machines.
Justice Minister Dermot Ahern made the comments following a robbery when a bank official's wife was abducted.
He said charging for cash withdrawals would mean fewer withdrawals and, consequently, banks holding less cash.
Politicians in the Republic criticised the comment but the IBOA, which represents bank staff, "did not believe it was meant as a serious proposal".
Opposition justice spokesman, Fine Gael's Alan Shatter, claimed Mr Ahern was "handing the state over to the crime bosses".
However, an IBOA spokesperson said it was understood the minister was attempting to persuade Irish people "to make greater use of electronic payments so that banks would have to handle less cash and therefore become less attractive targets for raiders".
"While the union is prepared to consider any suggestions that help to protect the personal security of bank workers, we believe that an additional charge on bank customers is not the way to go - especially in the teeth of a serious recession," the spokesman said.
"We would prefer to see more of the carrot to encourage people to use electronic payments willingly and less of the stick to penalise them for using cash."