'Trafficking victims' rescued in Belfast brothel raids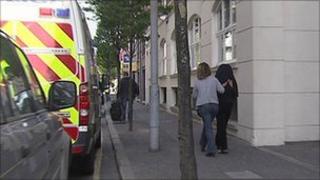 Police have said a number of "potential victims of human trafficking" have been rescued in raids on suspected brothels in Belfast.
The raids were part of a UK-wide operation called Operation Apsis.
Police said its objective was "to recover victims, both UK and foreign nationals" who have been trafficked for sexual exploitation.
Four people have been arrested. Two detained outside NI have been brought here for questioning.
In all 16 properties were searched across the UK by a number of police forces and three people detained. These included seven suspected brothels in Belfast.
Fifteen people were rescued - 12 women and three men. Police will not say how many were specifically rescued in Northern Ireland.
Detective Chief Superintendent Roy McComb, head of the PSNI Organised Crime Branch, said: "Human trafficking and prostitution is no longer gender specific.
"Men and women are being tricked or forced into prostitution in major towns and cities.
"They are being robbed of their liberty, stripped of their dignity, and suffer intolerable conditions as unwilling emblems of the sex trade.
"This is modern day slavery where human beings are treated like commodities by sophisticated organised crime gangs who are making substantial criminal profits from the sex trade."