Alex Attwood warns Duncan Smith on welfare budget cuts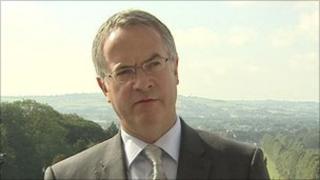 The Social Development Minister has warned that vulnerable people in NI must not suffer as a result of reforms to the welfare system.
Alex Attwood was speaking after meeting Iain Duncan Smith, the Work and Pensions Secretary, on Thursday.
Mr Duncan Smith wants to ensure benefit claimants are not made worse off by working and make state support conditional on willingness to work.
The social welfare budget for NI is still controlled from Whitehall.
Mr Duncan Smith was in Belfast on Thursday for the launch of a new report on tackling social breakdown by the Centre for Social Justice.
The independent think tank, which was set up by the former Tory leader in 2007, said politicians in Northern Ireland needed to look beyond the Troubles and begin to address the causes of a "crippling level" of social breakdown
Mr Duncan Smith said the report showed the need for his plans.
He added: "We need to reform and change the system because if you just look around you and see the level of unemployment, the level of deprivation, then if anybody thinks that the status quo is the answer, then I just wonder where they have been living."
Mr Attwood said that he agreed welfare should be reformed but any changes should protect the vulnerable.
"There does not have to be war on those on welfare," he said.
"And there will be voices in the Tory party who have that view of things.
"That is not Iain Duncan Smith's view. I think he has a conviction on where welfare reform should go.
"But I have a conviction that whatever happens, you do not impose further burden on those who are already in need."