Brandon Flowers to play Ahoghill?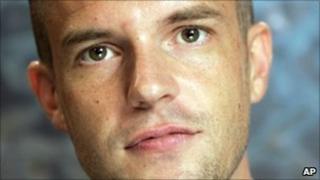 Killers frontman Brandon Flowers may be used to playing the world's biggest venues, but he could be making an unlikely visit to a County Antrim village, if his drummer has his way.
Darren Beckett grew up in Templepatrick before moving to New York in 1995 to seek fame as a drummer, and has known Flowers and his Killers bandmates from before they hit the big time.
Beckett drummed on Flowers' first solo album, Flamingo, which is released next week, and is preparing for a European tour which takes in London, Dublin, Barcelona and Madrid.
However, he told BBC Radio Ulster DJ Alan Simpson he may try to persuade Flowers to perform in Ahoghill.
"My mum's from there, so maybe I'll try to get Brandon over and we'll do a gig there," he said.
'Down-to-earth'
Beckett said he first met the Killers seven years ago when he was in another band, Ambulance Ltd.
"The Killers were fairly unknown at that time, but we became friends when we were staying in London at the Columbia, which is sort of a rock 'n roll hotel, three beds to a room," he said.
"My band broke up about four years ago, but I stayed friends with the guys in the Killers.
"They were supporting us on our first tour, but a short time afterwards their popularity just took off.
"We did a couple of tours with them, and another band I was in, Red Romance, later also opened for them."
Beckett said the "down-to-earth" Flowers had been a good friend over the past few years.
"I went to see the Killers in New York last year, and he told me he was thinking of recording some solo stuff, and asked me if I'd like to play with him," he said.
"I think he would have liked it to be a Killers album - they needed to take a little time off so he just continued to write songs and just wanted to keep going.
"Brandon's a great frontman, he has that secret ingredient, and it's inspiring to be around him."