Conservatives spent £100,000 on Northern Ireland poll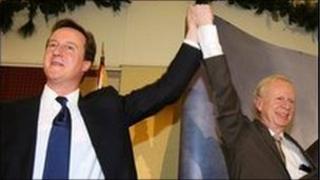 The Conservative Party spent more than £100,000 on its failed bid to win Westminster seats in Northern Ireland at the last general election.
In contrast, the Ulster Unionists, with whom they had a pact, contributed just £16,000 to the May campaign - well below its 2005 spending of £250,000.
Both the DUP and Sinn Fein spent £60,000 - a cut of £50,000 for the DUP and a rise of £20,000 for Sinn Fein.
The SDLP spent £50,000, Alliance £24,000 and the TUV £11,000.
The SDLP's figure was just a third of what it spent in 2005.
Northern Ireland's parties are required by law to declare their spending to the Electoral Commission.
The costs do not include spending by individual candidates.