Error not cause of Donagh brothers' move - David Ford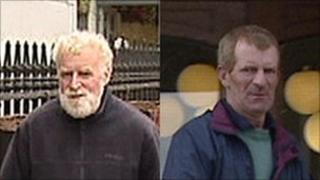 The justice minister has denied that a clerical error made in a supervision and treatment order led to James and Owen Roe McDermott returning to Donagh.
David Ford was speaking after officials from his department admitted the error to a Stormont committee on Thursday.
The two brothers abused children in the Fermanagh village of Donagh over a 30-year period, but were judged mentally unfit to stand trial.
The brothers then returned to live in the village.
However Mr Ford said they would have returned to Donagh, regardless of the error.
In July, a month after they were said to be unfit for trial, they voluntarily admitted themselves to hospital for treatment.
On Thursday, a Justice Department official said the judge had included a residency requirement in his original judgement.
However, this was not included in the brothers' supervision and treatment order.
In a statement later, a department of justice spokesperson said this was not the cause of the brothers' returning to the village.
'No bearing'
The statement said: "The minister has asked the director of the Northern Ireland Courts and Tribunal Service for an urgent report on this issue.
"Having discussed this again with officials and re-reading the court judgement, it is clear that the administrative error had no bearing on the Western Trust's decision to allow the two brothers to return to Donagh on completion of the court case.
"The judgement of the court is clear that the supervising officer could direct the address at which each of the brothers resided and there were restrictions on them entering particular parts of the village.
"The minister regrets the manner in which this has been presented, leading to further hurt and distress for the survivors of the McDermott brothers."
When the brothers returned to the village, a legal loophole was blamed.
They went back to their family home, close to children's play areas and where their victims and their families live.
After a public outcry, the brothers voluntarily admitted themselves to a psychiatric hospital.
The MP for the Donagh area, Michelle Gildernew, said that people in the area would be "shocked" by news of the mistake and said that she would contacting the Department of Justice to ask for an explanation.
James and Owen Roe were given lifetime orders banning them from being with children, and a two-year treatment and supervision order placing them in the care of social services.
Another brother, John, was jailed for nine years in June for the abuse, which was described as frequent, regular and persistent.
A fourth brother, Peter Paul McDermott, took his own life during his trial on abuse charges involving two young boys.