Blair "stretched truth" for NI peace process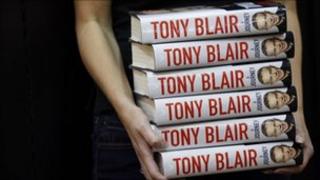 Former prime minister Tony Blair has said he often "stretched the truth past breaking point in order to get agreement" in the NI peace process.
In extracts from his memoirs he admitted that he took "horrendous chances" with the parties.
Mr Blair said throughout his tenure he held long discussions with the then DUP leader Ian Paisley on faith.
He said he advised Mr Paisley to "let God guide him" in the final stages of the peace negotiations.
In his chapter on Northern Ireland Blair also described Mr Paisley as a passionate unionist and a committed, God fearing Christian.
Relationships
"Near the end, he asked me whether I thought God wanted him to make the deal that would seal the peace process.
"I wanted to say yes, but I hesitated; though I was sure God would want peace, God is not a negotiator.
"I felt it would be wrong, manipulative, to say yes, and so I said I couldn't answer that question, that only he could and I hoped he would let God guide him."
In the book he also wrote of strong relationships with Sinn Fein leaders Gerry Adams and Martin McGuinness.
"They were an extraordinary couple," he said.
"Over time I came to like both greatly, probably more than I should have, if truth be told… they were supreme masters of the distinction between tactics and strategy.
"They knew the destination and they were determined to bring their followers with them, or at least the vast bulk of them."
He said that during the long talks over a number of days nothing surprised him and had someone suggested that the assembly be sited on Mars, he would have started to have drafted options.
A year after he was elected, Mr Blair played a key role in the marathon negotiations which led to the 1998 Good Friday Agreement, forming the basis for power-sharing in Northern Ireland.
In October 2002, allegations of republican intelligence gathering within Stormont led to the suspension of power-sharing institutions. A subsequent court case collapsed.
In 2006, Mr Blair was again involved in intensive negotiations to restore power-sharing. This resulted in the St Andrew's Agreement, and in May 2007 former enemies Mr Paisley and Mr McGuinness became Northern Ireland's first and deputy first ministers.