Medical negligence case lasts 27 years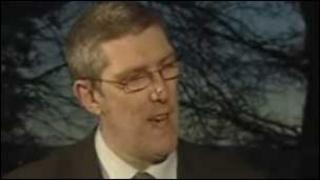 A Northern Ireland family's medical negligence case lasted 27 years while 55 others have been ongoing for longer than 15 years, it has emerged.
The figures were given in an Assembly written answer in response to a question on Northern Ireland health bodies by Sinn Fein MLA John O'Dowd.
Mr O'Dowd said legal fees over 27 years could run into millions of pounds.
The Health and Social Care Board has said the 27 year old case had closed with no settlement being reached.
The board also said "no medical negligence cases, active for any considerable length of time, have incurred unnecessary costs to the public".
Earlier on Wednesday, Mr O'Dowd said he knew of one family who had been waiting 16 years for their medical negligence case to be heard.
"They are seeking compensation for their son who has been left severely disabled after medical treatment went wrong," he said.
'Paid out'
"The case is continually cancelled just before it reaches court, leaving the family in limbo.
"Meanwhile, the lawyers are paid and in one case, for this last 27 years, legal fees have been continually paid out."
Mr O'Dowd said he had only been provided with the cost of legal fees for the past two years - almost £2m - but the figures for 27 years "could be frightening".
The Written Reply reveals that the Health and Social Care Board has 55 cases which have been ongoing for between 15 and 27 years.
The board has paid out legal fees amounting to £233,459 for cases ongoing for 15-plus years, £140,595 for cases initiated 11-15 years ago and £81,159 for cases taken in the past 5-10 years.
Among the various regional bodies, the Western HSC Trust has paid £204,184 for actions taken in the past 5-10 years and £49,843 for cases initiated 11-15 years ago.
'Highest standards'
Belfast HSC Trust legal fees for ongoing cases initiated in the past 5-10 years have so far cost £154,877.
A spokesperson for the Department of Health, Social Services and Public Safety said:"Every effort is made by hospital staff to ensure that the highest standards of care are provided to all patients.
"Over 2.5 million patients are cared for in NI hospitals each year.
"Inevitably, there will be a small number of occasions, particularly in emergencies involving critically ill patients with complex needs, where problems occur.
"The department is keen to ensure that cases of clinical negligence are kept to a minimum, and that those who have suffered harm as a result are properly compensated for it."
The spokesperson said the DHSSPS played no active role in the management of claims and litigation cases.
"Claims management is totally devolved to the Health and Social Care Board and Health and Social Care Trusts," the spokesperson said.