Former top Welsh civil servant to head NI Water probe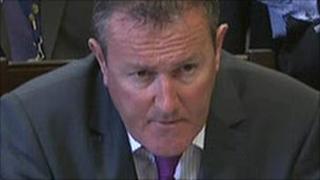 An investigation into the events which led to the suspension of a top civil servant is to be led by the former most senior civil servant in Wales.
Paul Priestly was suspended from the Department of Regional Development after leaked emails emerged about four sacked NI Water board members.
Sir Jon Shortridge will lead the probe.
Regional Development Minister Conor Murphy faced his departmental committee for the first time since Mr Priestly's suspension on Wednesday.
"When confronted with issues, I feel, as a minister, I'm obliged to actually tackle them head on and not sit back on them or try to damage-limit the exercise in any way," said Mr Murphy.
"So I very much regret it that we had to deal with those issues, but deal with them we had to."
Mr Murphy also supported the chief executive of NI Water, Laurence MacKenzie, who exposed the failure of the government-owned company to ensure competition when tendering contracts.
Mr Priestly was suspended in August pending an investigation into events relating to NI Water.
The civil service said his suspension was to facilitate the investigation and was not a disciplinary penalty.
It followed a UTV investigation which examined his role in relation to the sacking of four non-executive directors of NI Water.
They were sacked after an independent review found they were responsible for a breakdown in procurement procedures.
A total of £28.5m of contracts were awarded without being properly tendered.
Speaking ahead of Wednesday's meeting, SDLP MLA Conall McDevitt said he and fellow Department for Regional Development (DRD) committee members wanted "some very clear answers" from the minister about his chief advisor's suspension.
"Most particularly we need to know whether he still stands over the independence of the independent review which led to the dismissal of four non-executive directors at NI Water," he said.
Sir Jon Shortridge retired as Permanent Secretary of the Welsh Assembly Government in 2007.
His investigation will not begin until early next month because he has prior work commitments, but he aims to complete it by the end of October.
Sir Jon has been asked by the Northern Ireland Civil Service to assess whether "there may have been any misconduct, including breaches of relevant standards of conduct, terms and conditions of appointment, and in Mr Priestly's case, his personal responsibilities as accounting officer and head of department".