Ruane launches inquiry into exam marking errors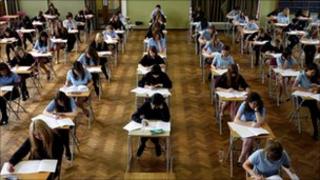 An investigation into how incorrect grades were sent to chemistry A-level students has been launched by Education Minister Caitriona Ruane.
A flaw in the marking of the multiple choice section of A2 chemistry was discovered earlier this month.
It meant 151 students from 41 schools and colleges received lower grades than they should have.
The Office of Qualifications and Examinations Regulation (Ofqual) is to carry out the investigation.
The body is the independent regulator of qualifications, examinations and assessments in England and of vocational qualifications in Northern Ireland.
The examinations body, the Council for the Curriculum, Examinations and Assessment (CCEA), said it became aware on 20 August that incorrect marks had been awarded in the multiple choice section of an A2 Chemistry paper.
Announcing details of the investigation, Ms Ruane said it would comprise two stages.
"The first stage will look specifically at this particular failure, while the second stage will be a more detailed review of processes and practices within CCEA."
The minister said the findings and recommendations from both stages would be made public.
She said the investigation would begin immediately.
"I would hope to receive the first report by the end of September 2010," she said.
"Students, their parents, teachers and the wider community need to have confidence in our examinations systems. This investigation is the first step towards CCEA regaining that confidence."