Westlink bomb alert declared hoax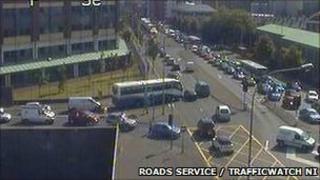 A security alert which closed the busy Westlink road in Belfast has ended and been declared a hoax.
Three separate hoax objects were discovered during the alert.
The objects were found on the carriageway when police searched the area on Tuesday morning. They were then examined by the Army.
The road was closed in both directions after the police received a telephone bomb warning.
The alerts caused severe disruption as the Westlink is one of Northern Ireland's busiest roads.
Sinn Fein assembly member Fra McCann said those responsible should explain what they are trying to achieve.
"Calling in a bomb warning which closed a major arterial route into Belfast has served only one purpose, the disruption of life for people coming to and from Belfast, and shutting a main access point to Belfast's two main hospitals," he said.
"What will the closure of the Westlink achieve? How will it bring a united Ireland closer and how will it be to the betterment of the people of Ireland?"