Ryanair to pull out of Belfast City Airport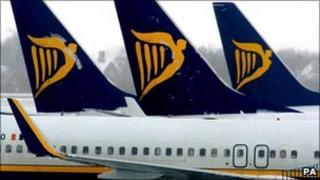 Ryanair is pulling out of Belfast City Airport from 31 October, the airline has announced.
Passengers are advised to check with Ryanair for bookings made after the date.
The airline said the decision followed the airport's confirmation that a public inquiry into a planned runway extension would be further delayed.
Ryanair has been operating from George Best Belfast City Airport since 2007.
The airline currently flies from the City Airport to five locations in the UK - Bristol, the East Midlands, Prestwick, Liverpool and London.
The airline flies about 800,000 passengers a year from the airport.
Ryanair's Chief Executive Michael O'Leary said that "it is very disappointing that the promised runway extension at Belfast City Airport has still not materialised more than three years after we opened the base at Belfast City".
Mr O'Leary added that "in these circumstances, sadly, we have better alternative airports elsewhere in the UK and Europe, all of whom are willing and able to provide us with the runway infrastructure and low-cost facilities we need".
He also said if permission was granted in the future, then Ryanair would come back.
Jobs
The company said that from November, Ryanair will switch its one Belfast City-based aircraft to another European airport, with the loss of 50 Ryanair jobs.
It said that all staff will be offered relocation elsewhere in the UK or Europe.
On Tuesday, Katy Best, business development director at George Best Belfast City Airport, said that "we are obviously disappointed at Ryanair's decision; the airline had provided five successful routes from Belfast City Airport".
"However, passenger figures had proved that there was significant demand for the routes operated by Ryanair and I am confident that we can attract other airlines to fill the void," she said.
Northern Ireland Planning Minister Edwin Poots, who referred the runway extension to a public inquiry, said he was disappointed.
He added the airline could have operated international flights from Belfast International Airport.
"There has been an economic downturn and as a consequence airline companies are cutting their cloth," he said.
"Northern Ireland unfortunately has failed to meet requirements for Ryanair."
Liz Fawcett, spokeswoman for Belfast City Airport Watch, which opposes the runway extension, said: "Residents are very pleased.
"They had a particularly unpopular 6.30am flight and certainly this will give some respite."
Locations
Ryanair is Europe's largest low-cost airline.
Its operations from Derry City airport are not affected by Tuesday's decision.
Belfast City Airport has wanted to build a runway extension for some time.
BBC NI business correspondent Kevin Magee said this would have allowed Ryanair to fly to destinations much further afield.
"But the extension proposal is now tied up into the planning process.
"Earlier this month, the Planning Appeals Commission delayed a planned public inquiry into the proposed extension until further information is provided by the airport.
"The objections to the extension centre on environmental, social and economic concerns," said our correspondent.