Charity calls for smoking ban to protect young people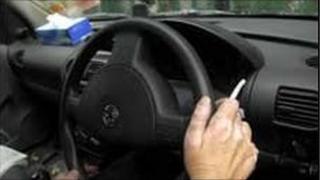 A leading Northern Ireland charity is calling for smoking to be banned in vehicles carrying children and teenagers under 16 years of age.
Smoking has been banned in public places such as bars and restaurants since 2007.
Action Cancer, however, said more needed to be done to protect young people from second-hand smoke.
The charity's Geraldine Kerr said it was now recognised as a danger to public health.
"The damaging effects of environmental tobacco smoke (ETS), otherwise known as second-hand smoke, are well documented and it's now recognised as a substantial public health hazard," Ms Kerr said.
"The main places children and young people face exposure to ETS is within the home and vehicles.
"Northern Ireland should lead the way and introduce a smoking ban in vehicles to ensure our children are not exposed to second-hand smoke, reducing the levels of health problems, economic commitment to treating these health problems and likelihood of smoking uptake later in life."
Action Cancer is to launch a lobbying and briefing campaign aimed at ensuring wide-ranging political support for a commitment to early legislation on a smoking ban to protect minors.
Ms Kerr said the charity would be encouraging the political parties to adopt a pledge to support the ban as a commitment in their manifestos for the forthcoming Assembly election.