Claudy bomb: Priest defends Catholic Church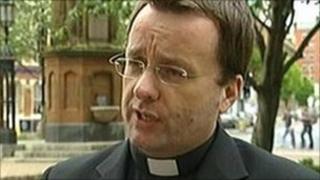 A leading figure in the Catholic Church has defended its role in moving a priest accused of involvement in the Claudy bomb attack.
A report last week said that the church had connived with the government and police to move Fr James Chesney.
Fr Tim Bartlett said too much focus on the church's involvement was "dancing on the head of a pin".
He said that those who knew the truth of what happened needed to come forward for the sake of the victims' families.
A report by the Police Ombudsman last week said that the then leader of Ireland's Catholics, Cardinal Conway met Willie Whitelaw, the Secretary of State for Northern Ireland, in the wake of the bomb attacks which killed nine people.
They agreed that Fr Chesney, who was described in Al Hutchinson's report as the leader of the IRA in south Derry, should be moved across the border to the Irish Republic.
Sources
The report added that RUC officers who wanted to question Fr Chesney were told by an Assistant Chief Constable that "matters are in hand".
Fr Bartlett said that decision should be the subject of more scrutiny.
"We have had one of the Special Branch officers who was involved in the investigation tell us that he was 25 minutes away from searching Chesney's house," Fr Bartlett added.
"He told us that information came from sensitive sources. Who are those sources? Why are journalists not pursuing that for the sake of the families?"
Mr Hutchinson, who has the authority to probe the RUC's investigation, said police had been guilty of "collusion" with the church and the government.
He stopped short of classing the collusion as criminal behaviour but said that if senior police officers involved were alive today, their actions would merit further investigation.
The former Bishop of Derry, Edward Daly, has cast doubt on the police's allegations that Fr Chesney was involved in the bombings.
He said that he interviewed the priest in the years after the attack and been told that he was only a "verbal republican".
Both Protestants and Catholics were killed in the blasts.
The youngest victim was eight-year-old Kathryn Eakin who was cleaning the windows of her family's grocery store when the first bomb exploded.
The other people killed were Joseph McCloskey 39, David Miller aged 60, James McClelland 65, William Temple 16, Elizabeth McElhinney 59, Rose McLaughlin aged 51, Patrick Connolly, 15, and 38-year-old Arthur Hone.