Profile: Progressive Unionist Party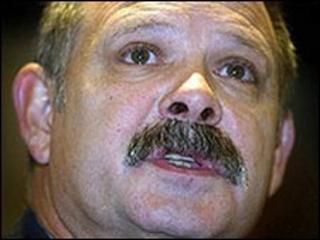 The Progressive Unionist Party was formed in the 1970s and draws its support mainly from loyalist communities.
The party was established to give political voice to the Ulster Volunteer Force.
The PUP says it is committed to "develop an anti-sectarian and pluralist Northern Ireland".
In 1994, the then PUP leader Hugh Smyth became Lord Mayor of Belfast, and in the 1996 elections to the Northern Ireland Forum, they secured two seats, with Mr Smyth and David Ervine both being elected.
Mr Ervine, a former UVF paramilitary prisoner, helped broker the loyalist ceasefire of October 1994 and was elected to represent East Belfast first on Belfast City Council and then at the Stormont Assembly.
The PUP supported the Belfast Agreement and in the 1998 election to the Northern Ireland Assembly, Billy Hutchinson and David Ervine won seats in Belfast.
However in the Assembly elections of 2003, only David Ervine retained his seat.
Mr Ervine succeeded Hugh Smyth when he was elected unopposed as the new leader of the the party in 2002.
Ceasefire
Mr Ervine was a prominent supporter of the 1998 Good Friday Agreement, both in the run-up to its drafting and as a campaigner for a 'Yes' vote in the referendum, working hard to keep onside a wary loyalist community.
He won credit for trying to wean loyalists away from violence.
In January 2007, Mr Ervine died in hospital at the age of 53 following a heart attack.
The Northern Ireland assembly adjourned for half an hour in his memory.
Former US senator George Mitchell was among the politicians who praised Mr Ervine.
Mr Mitchell said Mr Ervine had played a critical role in the peace process.
In 2007, Dawn Purvis was chosen as the party's new leader.
In the 2007 Assembly elections, Ms Purvis was elected to represent East Belfast.
In 2009, the UVF fully decommissioned all its weapons under the supervision of the Independent International Commission on Decommissioning (IICD).
A year later, the PUP was thrown into turmoil when following the murder of Bobby Moffett, an attack widely blamed on the UVF, Ms Purvis left the party.
Her resignation was followed a few months later by the departure of another leading party member, David Rose.