Leading PUP member, David Rose, quits party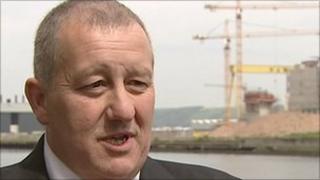 A second leading member of the UVF-linked Progressive Unionists, Policing Board member David Rose, has left the party.
Mr Rose, who is a former deputy leader of the PUP, told the Belfast Telegraph the killing of Bobby Moffett had led to "a lot of soul-searching".
The murder of Mr Moffett, who was shot dead on the Shankill Road in May, has been widely blamed on the UVF.
The PUP leader Dawn Purvis left the party shortly after the killing.
She said she left because the PUP was "severely restricted because of its relationship with the Ulster Volunteer Force".
Mr Rose, who works as a teacher, said he had decided to leave after "a long period of reflection" following Mr Moffett's murder.
"What that did was act as a catalyst for the party. It made a lot of people think about the direction that the party has been moving in.
"My feeling is that the party is becoming increasingly conservative in outlook. So that, along with the fact that the Bobby Moffett murder was just plain wrong, has prompted me to take the decision to go."