Scottish sex offender Fraser McLaughlin 'may be in NI'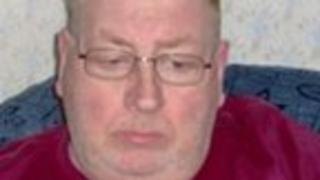 A sex offender who broke his bail conditions could be in Northern Ireland, the Child Exploitation and Online Protection Centre has warned.
Fraser Benjamin McLaughlin, 57, from Hamilton in Scotland was last seen getting on a ferry to NI in May.
He has broken Sexual Offenders Register conditions and failed to answer bail over charges linked to child abuse images.
CEOP has said that McLaughlin has "strong links" to Northern Ireland.
He is the 21st convicted child sex offender whose details have been posted on to the CEOP Most Wanted site.
He is described as being about 6ft tall with greying red hair and a small moustache. He may also wear glasses.
He is diabetic and has a heart condition.
When he was last seen, he was wearing a cloth cap, a red and blue jacket and a white sweater.
It is thought he may also have links to Blackpool and Lancashire.
Since the launch of the Most Wanted site in November 2006, 18 of the 21 offenders posted have been located. They had previously been missing for a combined total of 55 years and 3 months.
Chief Executive of CEOP, Jim Gamble, said that McLaughlin should be a "worried man".
"Only this week another offender posted on the site has returned to custody after he thought he could escape the consequences of his crime.
"Our success in locating these individuals has reached as far as Europe and South America.
"I therefore encourage people to register on the Most Wanted website to look at McLaughlin's details and those of other individuals to see what they can do to bring those offenders to account."
Detective Inspector David Tassie of Strathclyde Police said: "Strathclyde Police has been working closely with partners in Scotland, England and Northern Ireland to trace Fraser McLaughlin.
"I would appeal to anyone with information to contact police."