NI housing market vulnerable in face of cuts warns RICS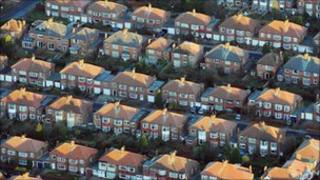 The chief economist at Royal Institution of Chartered Surveyors has said Northern Ireland's housing market is "particularly vulnerable" in the face of the looming public sector cuts.
In an interview with the Bloomberg news agency Simon Rubinsohn said: "There is no doubt that the sort of plans that have been outlined will have some impact on the housing market.
"Our indicators suggest that Northern Ireland stands out as being particularly vulnerable, as do Wales, the Northeast, and the Midlands."
Earlier this month, the local branch of the Royal Institution of Chartered Surveyors (RICS) said the prospect of public spending cuts were already having an impact on the Northern Ireland market.
Northern Ireland experienced a huge rise in house prices earlier this decade, but now the market has crashed.
In some areas and sectors prices are thought to have come down as much as 60% from their peak.