Claudy bomb: Police Ombudsman findings at a glance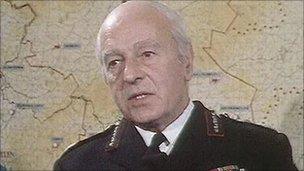 The NI Police Ombudsman has found the police colluded with the government, which then involved the Catholic Church, to cover-up the suspected role of a Catholic priest in a bomb attack in Claudy, County Londonderry on 31 July 1972.
Al Hutchinson concluded the Secretary of State for Northern Ireland, the leader of Ireland's Catholics and the Chief Constable of the Royal Ulster Constabulary connived to move Fr James Chesney, an IRA leader, to a parish in the Irish Republic.
As well as investigating complaints against the Police Service of Northern Ireland, Mr Hutchinson also has the authority to probe the conduct of its predecessor, the RUC.
The Ombudsman findings included that:
The RUC had concluded that Fr Chesney was the head of the IRA in South Derry and was believed to have been directly involved in the bombing.
A detective who wanted to arrest Fr Chesney after the attack was told by the Assistant Chief Constable that "matters are in hand".
Subsequent letters between the police and the Northern Ireland Office (NIO) show that the assistant chief constable asked about "what action could be taken to render harmless a dangerous priest".
An NIO official wrote a letter back to the police and said the NI secretary, Willie Whitelaw, had met Cardinal Conway and expressed "his disgust at Fr Chesney's behaviour". The Cardinal "mentioned the possibility of tranferring him to Donegal".
The correspondence was circulated to a number of police officers. Then-RUC Chief Constable, Sir Graham Shillington said he would "prefer a transfer to Tipperary".
Fr Chesney was moved to Donegal. When questioned by his superiors, he denied involvement in terrorist activity. The report says that as a result of police inaction Fr Chesney's denial was never tested.
In his conclusions, Mr Hutchinson said that by ignoring opportunities to pursue Fr Chesney, the police had compromised the investigation.
He said that decision "failed those who were murdered, injured and bereaved".
He added that while he recognised the arrest of a priest in 1972 may well have "aggravated the security situation" the police's failure to investigate someone involved in terrorism could have had "serious consequences.
Mr Hutchinson also concluded that his investigation "found no evidence of criminal intent on the part of any government minister or official or on the part of any official of the Catholic Church".
Related Internet Links
The BBC is not responsible for the content of external sites.