From Italy to Ireland: The Moped Diaries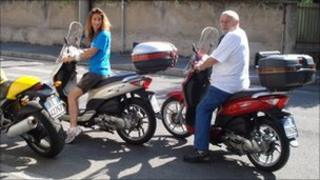 From Italy to Londonderry on a moped, that's the journey being undertaken by a daughter and her father. BBC NI caught up with the pair as they started their engines outside Milan to find out what's behind the 2,600km trip.
Travelling from Italy to Derry over land may seem like a bit of a challenge to most people. Doing the journey on a moped, especially if you have only been on one once before, sounds daunting.
On Wednesday, Dr Maria Angela Ferrario, who moved from Italy to Ireland 15 years ago, embarked on a trip that takes in five walled cities, a mountain pass 2km above sea level and the Isle of Man TT track.
Maria, who has lived in Derry for five years and will soon move to England for her job, explained the reasons behind the expedition: "I simply wanted to do something to mark my leaving of Derry and do something in memory of my mother. Both have been a source of happiness and challenges."
Maria's mother, Rosetta, fought Parkinson's disease for 30 years. She passed away two years ago.
Her 73-year-old father, Luigi, a more experienced rider, will be joining her on the 2,600km odyssey.
Give something back
Maria is using the journey to raise money for Parkinson's UK who, along with local charity Unite Against Hate, donated t-shirts for the trip.
On the way Maria also intends to promote Derry as a tourist destination, leaving City of Culture promotional material in hotels along the route.
Having lived in the Maiden City for five years she wanted "to give something back to this city that's been my home from home".
The computer science graduate arrived in the city in July 2006 when she joined the University of Ulster as an associate researcher in Heritage.
This year she accepted a job with the University of Lancaster which means she will be leaving Derry in the autumn.
The idea for the mammoth road trip came to her two years ago, soon after her mother passed away.
"I was in Florence with some of my Derry friends and I said to them, 'I tell you what, I'd like to travel from Italy to Derry by moped and I want to do it with my dad'," she said.
Starting off in her hometown of Saronno just outside Milan, the pair will ride to Switzerland, through the 2km high St Gotthard pass and on to the walled city of Metz in France.
From there they head to Bruges in Belgium, then across the English Channel and on to York.
They plan to then ride alongside Hadrian's Wall and finally cross the Irish Sea. They hope to arrive in Derry on 23 August, the feast day of St Rose, a day that was particularly special to her mother.
Maria expects the Gotthard pass in the Swiss Alps to be the most challenging part of the trip: "My father is insisting on taking the scenic route - a narrow gravelly road and I have my doubts about it."
She is also worried about the Isle of Man leg.
"Dad is a passionate biker, so he wants to try the TT track and I know he's going to beat me hands down. It's going to be quite embarrassing," she said.
However, Luigi did not get much notice of his daughter's adventurous plan.
"It was only two months ago I mentioned the idea to my father," she said.
"I said I'd give him a couple of weeks to think about it. He phoned me back five minutes later and said he'd do it."
Happiness and challenges
A key source of inspiration for the trip was a treasured photograph, taken in 1956, of her mother sitting on a Vespa.
Rosetta was the first person in her small village to get a moped.
"My mother was a very glamorous woman. She was a woman ahead of her time in many ways," said Maria.
Before she was diagnosed with Parkinson's at the relatively young age of 43, Rosetta was an adventurer and travelled far and wide.
She even journeyed into Bulgaria at the height of the cold war.
"She was also humble, funny and a wonderful mother. I thank God I had her," added Maria.
Maria said she is very excited about the trip and looks forward to spending some quality time with her father who spent much of his life looking after Rosetta.
"Journeys bring people together. My father and I hope that our trip will bring back the memory of my mother," she said.
Maria and Luigi's epic journey can be followed on her Moped Diaries Facebook page.