Human stories behind the Northern Bank robbery on stage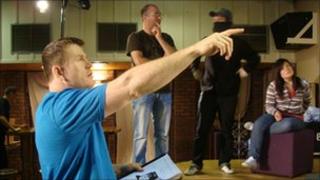 The political and legal consequences of the largest bank robbery in Northern Ireland's history have been extensively explored. The human story has received much less attention.
A new play which premiered in Poleglass, on the outskirts of west Belfast, on Tuesday night aims to tell that story.
Heist, written by the west Belfast playwright Kieron Magee, claims to be the "real" story of the Northern Bank robbery.
At the time, the Northern Bank robbery was the biggest robbery in British criminal history and remains one of the biggest anywhere in the world.
Four days before Christmas 2004, a still unidentified gang stole £26.5m from the Belfast city centre branch.
The gang took two families hostage in Belfast and County Down, forcing two bank employees to bring the money to them.
Mr Magee worked with young actors from the Poleglass area to produce the play, commissioned by Feile an Phobail in association with Colin Youth Development Centre.
The young people themselves suggested the Northern Bank robbery as a subject with both local interest and wider appeal.
Gerard Braniff, who plays one of the robbers said: "We chose to do this play because one of the people caught up in the robbery was from Poleglass and we wanted to do something that would stand out for the area."
Chris Ward, of Colinmill, Poleglass, was one of the two bank employees who were forced to assist the robbers while their families were held hostage.
He was arrested in November 2005 on suspicion of being an "inside man" who helped the gang carry out the robbery.
Mr Ward was found not guilty in October 2008. To date no-one has been convicted of direct involvement in the robbery.
Traumatic experiences
The play switches between the events of the robbery itself and the court cases that followed.
The writer stressed that the play in no way attempted to glamorise the crime that took place.
"It's the human story. We're not here to get involved in the guessing games of who did it," he said.
"We want the audience to see what the families went through and understand what they suffered."
Portraying the traumatic experiences of real people is not something the actors took lightly.
Dearbhaile McAteer, 18, from Poleglass, who plays Karyn McMullan, the wife of one of the bank managers said she would like to do justice to her character.
"When I heard about her experience I felt sick, because actually being put through that must have been terrible," she said.
Karyn McMullan, wife of assistant bank manager Kevin McMullan, was held hostage and blindfolded by the gang more than 24 hours before being driven to an isolated spot in the middle of a forest.
Heist will be performed at 2000 BST on Wednesday 4 August and Thursday 5 August in Trinity Lodge in Turf Lodge, west Belfast, as part of Feile an Phobail 2010.