'Dirty protest' targets staff at Maghaberry prison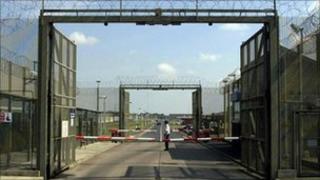 The Northern Ireland Prison Service has said it has issued staff with protective clothing after urine was "aimed at them" in a jail protest.
About 30 dissident republicans are conducting a so-called "dirty protest" at Maghaberry jail.
The men are pouring their urine onto the cell block landings as part of the long-running protest.
The NI Prison Service said the protest was limited to one area of the jail where republican prisoners are held.
In a statement, the service said the protest had involved prisoners "fouling areas of their living accommodation by pouring urine, sometimes mixed with excrement, onto the landings and some damage has been caused to cell fittings.
"Staff working in that area of the prison have, on occasion, had discarded urine aimed at them," the statment continued.
Complaints
"As a consequence and in order to protect our staff, NI Prison Service has issued protective clothing to staff working in the affected area."
The dissident prisoners have said they are protesting about the prison regime and conditions, including to what extent they are allowed to associate with each other.
Northern Ireland's Prisoner Ombudsman investigated complaints from two republican prisoners earlier this year.
Her investigation report, which included 16 improvement recommendations, was published in June,
The NI Prison Service accepted all of the recommendations and said they have been or are in the process of being implemented.
The service said it was "disappointing that the protest was continuing" as it had been their belief that implementing the Ombudsman's recommendations would provide the basis for an end to the protest.